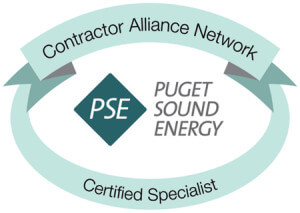 PSE serves over 700,000 customers a combination of electricity and/or gas in ten western Washington counties. PSE offers generous Instant Rebates to customers who insulate their homes.
| | |
| --- | --- |
| Attic insulation (R-11 to R-49) | 50 percent of the cost, up to $600 |
| Wall insulation (R-0 to R-13) | 50 percent of the cost, up to $400 |
| Floor insulation (R-11 to R-30) | 50 percent of the cost, up to $200 |
| Duct sealing and insulation** (R-0 to R-11) | 50 percent of the cost, up to $300 |
We won!
American Crawlspace Cleanouts won the 2013 Energy Efficiency Leader awards for Outstanding Work with PSE customers!
"PSE's trade partners are integral to the success of our energy efficiency programs," said Bob Stolarski, Director of PSE's Energy Efficiency department. "It's an honor to recognize these contractors for their commitment to helping customers make safe, dependable and efficient energy choices for their homes while lowering their energy bills." Each winner earns distinction for outstanding performance in helping residential and multifamily customers save electricity and natural gas in several categories.
Contact us today to schedule your FREE On-Site Inspection.
Seattle: (206) 365-5467
Eastside: (425) 823-9790
Northend: (425) 742-8764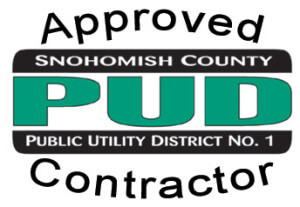 To help finance weatherization improvements, Snohomish PUD offers cash incentives to qualifying customers with electric heat. Eligible home improvements include Floor and ceiling insulation (attic insulation) as well as duct sealing and insulation. American Crawlspace Cleanouts is a registered and approved insulation contractor with the Snohomish County PUD.
Current Snohomish County PUD Weatherization Rebates (*as of 9/30/2014) Each incentive payment is a one-time-per-measure offer, and the amount depends on the measure installed (see below).
| | |
| --- | --- |
| Eligible Measures | PUD Maximum Incentive |
| Attic insulation | 50 cents per s.f. |
| Floor insulation | 50 cents per s.f. |
| Wall insulation | 50 cents per s.f. |
| Duct sealing & insulation | $5 per l.f. up to $450 |
Contact us today to schedule your FREE On-Site Inspection.
Seattle: (206) 365-5467
Eastside: (425) 823-9790
Northend: (425) 742-8764